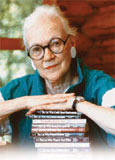 This week the mystery writing community lost a legend. Lilian Jackson Braun died at the age of 97. But in her lifetime she authored 29 published novels and several short story collections.
It was shortly after my mother passed away that I read the first in the
Cat Who
series by Lilian Jackson Braun. For those who might not have had the pleasure, it's worth the read. These are the books that spawned the introduction of a new sub-genre. Not just the cozy, but the cat sleuth. These book are not literary. They are often not page-turners. Sometimes they ramble like a comfortable old grandfather who can't seem to get to the point. But one thing they are: pure comfort.
Far from salacious, these family-friendly mysteries chronicle the abilities of two Siamese cats, Koko and Yum Yum, and their caretaker, (does one own a cat?) Qwill. Qwill is an intuitive journalist with a pepper and salt mustache that seems to sense crime as easily as Koko's whiskers. Together they solve murders in the quaint town of Pickaxe, 400 miles north of everywhere. It's a refreshing destination, for a heart-warming cozy. And they and the whole town will be missed.