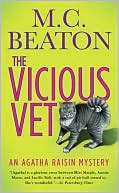 The second in the series. I'm beginning to think you really don't get the flavor of a series until the second or third book.
Agatha Raisin continues to develop, and that's a good thing. I'm not sure characters that can be revealed on one book can hold a series. She continues to struggle--I loved the scene in the ladies' room where she replaced a light bulb so she could see (and hide) a zit, and ended up breaking the sink off the wall. Her romantic struggles are interesting--her foibles are funny, and her almost constant dissatisfaction with her life is something most people can relate to. At times lonely, discouraged, hurt--these characteristics balance the fact that she is often rude, selfish, and vindictive. She is a full character that engages the reader's interest.
There is, however, stronger language and more sexual innuendo than the first book, which means I will probably not read any further in this series myself. Kind of sad really. I think I'm going to miss Agatha.