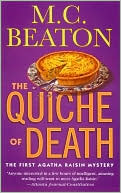 Here's the drill for anyone who may have missed it: I've been reading mystery--particularly cozy mystery--to help me develop my own skills in the craft. I'll take a book, tear it apart, dissect and analyze, to pull out the things that would help me best in my own writing.
This book is the first book in the very popular Agatha Raisin series--at least 19 books to date. And I could almost immediately see why. It was an enjoyable book--entertaining and easy to read. The two main strengths in this book are character and voice.
Agatha's character is unique and compelling. A successful career woman with her own PR agency, Agatha retires at 50 and moves to her dream home--a cottage in the Cotswolds. Like many dreams, the realization is not as pleasant as the dream itself. Agatha is a fun, imperfect character, rife with flaws and disappointments. Her attempts to fit in, and her desire to shine at times, are universally identifiable.
The voice in third person (omniscient?) is also pleasant, making this a good bedtime read. The POV transitioned from head to head a little abruptly at times. I think I would have preferred staying in Agatha's head.
I also had a few issues with the structure. Instead of one clear killer, with all the evidence leading to him, it seemed more like a game of Clue--where any of a number of suspects could have been 'the guy'.
But none of these things seem to worry most readers, including me. I've already started reading the second in this series.